CUT-2RI
---
Digital Telecommuting Device
Multifunctional Integrated Media Gateway CUT-2RI is designed for operation as a component of stationary or mobile systems, used to develop automated digital telecommunication networks, integrating radio, telephone and data exchange services. CUT-2RI may be used for the carrying out of the field, stationary fixed, end terminal and transit communication nodes.
FEATURES
Subscriber lines
Digital tracks
Ethernet interfaces
VoIP telephony
Router/switch functions
Support for the radiostations
Automatic exchange of IP data
Duplex conferences
Power supply: DC 27 V
---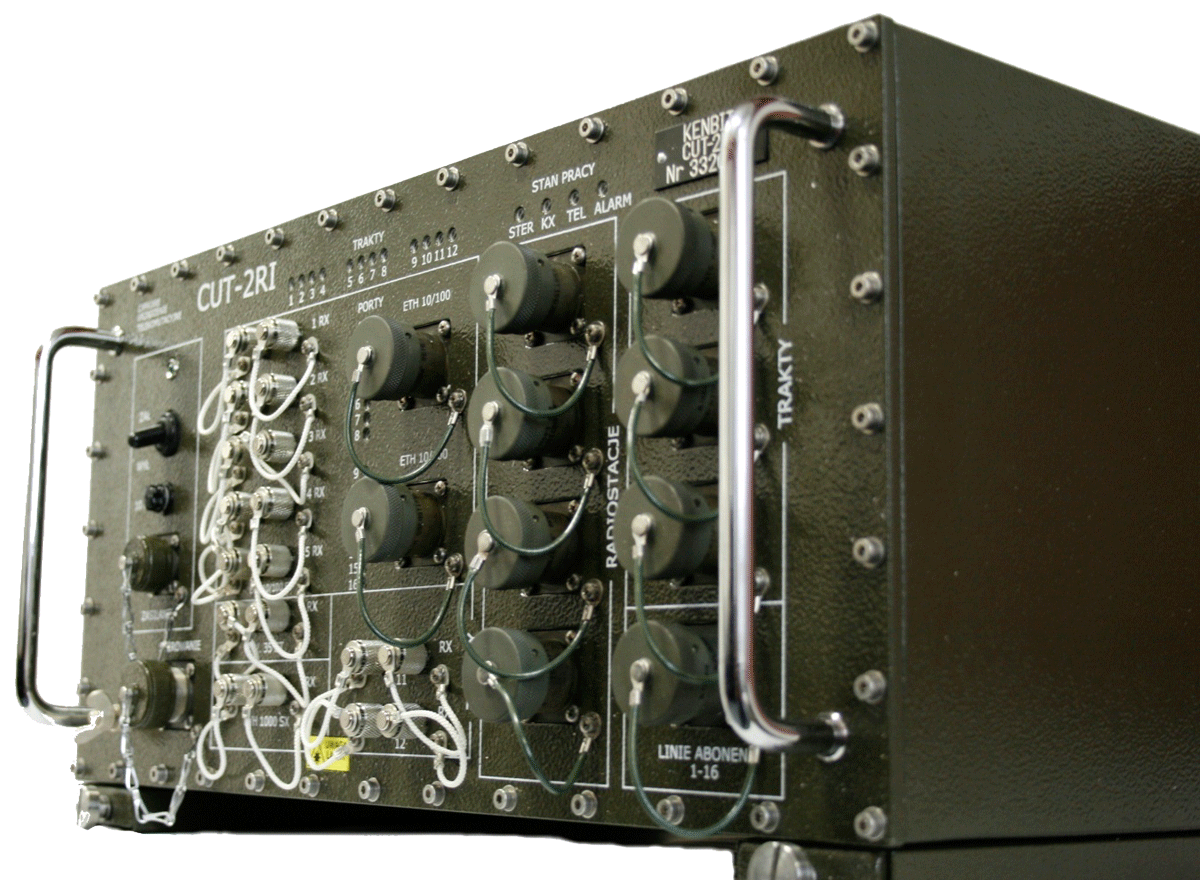 ---
CUT – 2RI integrates all the functionality in one housing necessary and sufficient to achieve the system structure construction of the future command vehicle. CUT- 2RI integrates in on uniform systems all the radios, satellite terminals, computer terminals and endpoint subscribers equipment. CUT – 2RI has a wide functional range of cooperation with the combat field radios. It includes telephone calls between wired and/or radio subscribers, as well as IP advanced data services.
On the wired side CUT -2RI has a wide range of paths through the block. Device configuration is customized according to the requirements. The basic version of the device has eight groups of tracts in standards: STANAG 4210, STANAG, 4578, EUROCOM, ISDN PRI, and STANAG 4206. In addition, 4 tracks E1 can be used together by creating a virtual route 4xE1 with 8192 kbit/s data rate. In principle, the scope of standardization used on the wired side is enough to attach to any of the telecommunication system, can be met in the NATO members armed forces, as well as in the civilian infrastructure.
Switch and MUX functions
Attaching group tracts: STANAG 4210, Eurocom 64…2048 kb/s, G.703, STANAG 4578 i DSS1 ISDNPRI, STANAG 4206.
Cooperation with the public telephone exchanges ISDN PRI
Virtual tract configuration 8192kb/s (4 x E1)
Digital and analog subscriber's outfit
---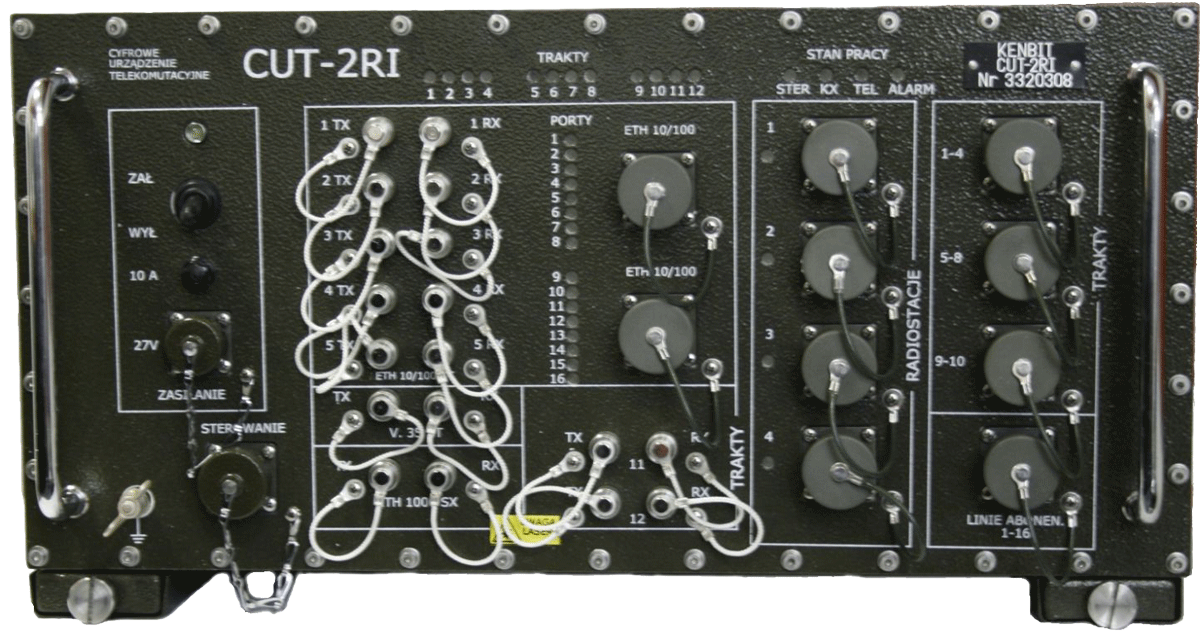 Compatibility with Automated
Communication System STORCZYK
Compliance of CUT-2RI contact block standard with STORCZYK
Attaching devices through Ethernet interface and "U" type connection of STORCZYK system
VoIP gate functions
With other VoIP subscribers
VoIP subscriber – STORCZYK subscriber
VoIP subscriber – ISDN subscriber
VoIP subscriber – radio subscriber (RSP) VHF/HF
Operating the HF/UHF radio station
VHF/HF radio access services (RAP function)
IP data transmission with accordance to STANAG 5066
Radio router functions
Connection to 4 VHF/HF radiostations
IP router functions
Operating the PROT data transfer protocol compliant with STORCZYK (MK-16) system
Operating the V.110/V.120 protocol transmitting the data in ISDN networks
Operating the PPP protocol cooperating with IP routers and RAS servers
Operating the RIP V.1 and V.2,OSPF, BGP routing protocols
Operating the V.35 optical interface with HDLC, Cisco HDLC, PPP encapsulations
Remote management through SNMP V3 protocol
Automatic selection of an alternative route for IP packets