IS-1
---
System Integrator (VoIP Gateway)
System Integrator IS-1 is an essential element of the field ICT IP platform intended to support the command and actions of troops and deployment of efficient LAN networks mounted in vehicles, and unwind in the field framework of BMS (Battlefield Management System).
IS-1 is a WAN Access Box class IP gateway. The device provides integration between systems of audio connections: VoIP telephony, analog phones, tracts among exchanges, radios, and also enables the automatic exchange of IP data through wired links (Ethernet, VDSL) and wireless through VHF and HF radios. IS-1 enables communication between the various wire and radio communication systems. The functional parameters, the small size and low weight allow for stationary and mobile use.
The System Integrator IS-1 acts as an ICT integrator in command & control vehicles, combat vehicles (in armoured personal carriers, tanks, etc.) and other platforms.
IS-1 provides integration of HF and VHF radios, as well as of field and fixed telecommunication networks, and also with the vehicle sensors set. Integrator gives the functionality of on-board intercom. The equipment may contain add-on elements, for example: module WLAN, VoIP terminals and network workstations, including tactical terminals.
The Integrator IS-1 is intended for use in the field. According to the N0-06-A101 and N0-06-A103 classification the equipment is included into N.14-UZ-II-A group. Permissible levels of side electromagnetic emissions and resistance to electromagnetic exposure fulfill the requirements contained in N0-06-A200 defense standard.
FEATURES
Subscriber lines
Digital tracts
Ethernet interfaces
VoIP telephony
Router/switch function
Support for the radio
Automatic exchange of IP data
DHCP, NTP and TFTP servers
Conferencing in duplex
Power: DC 27 V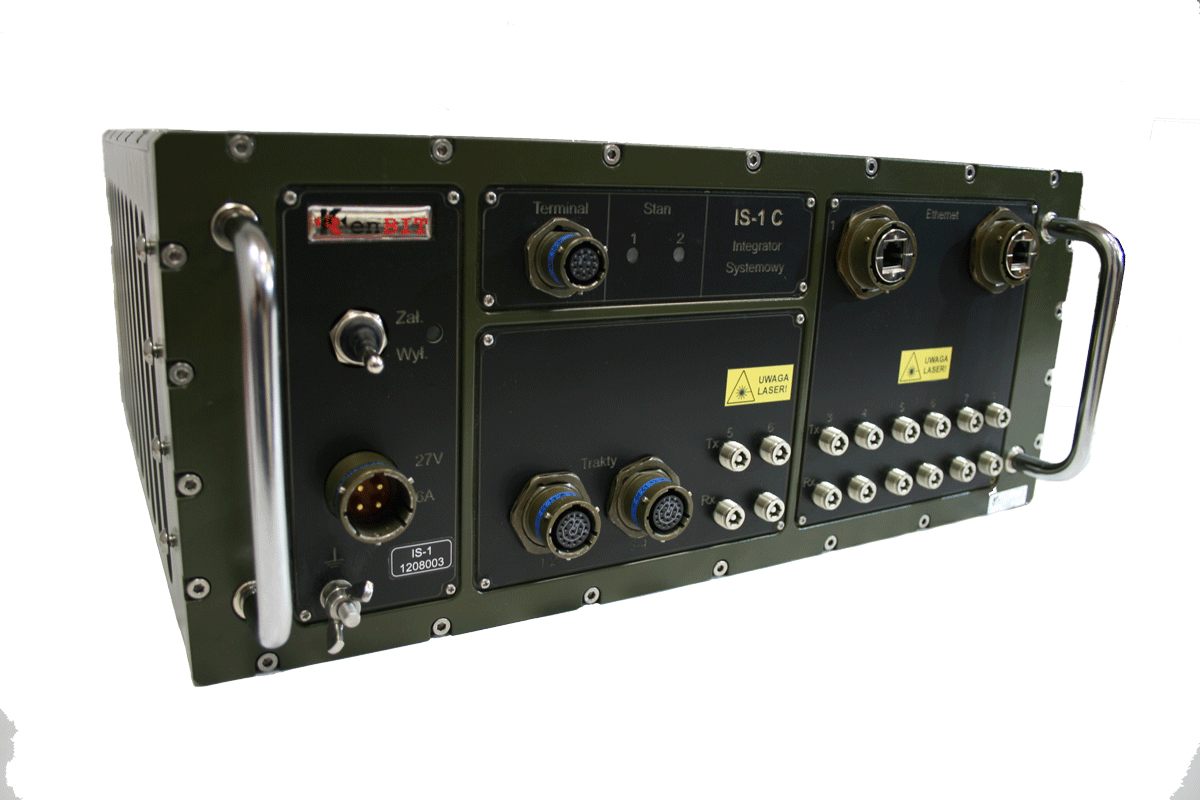 ---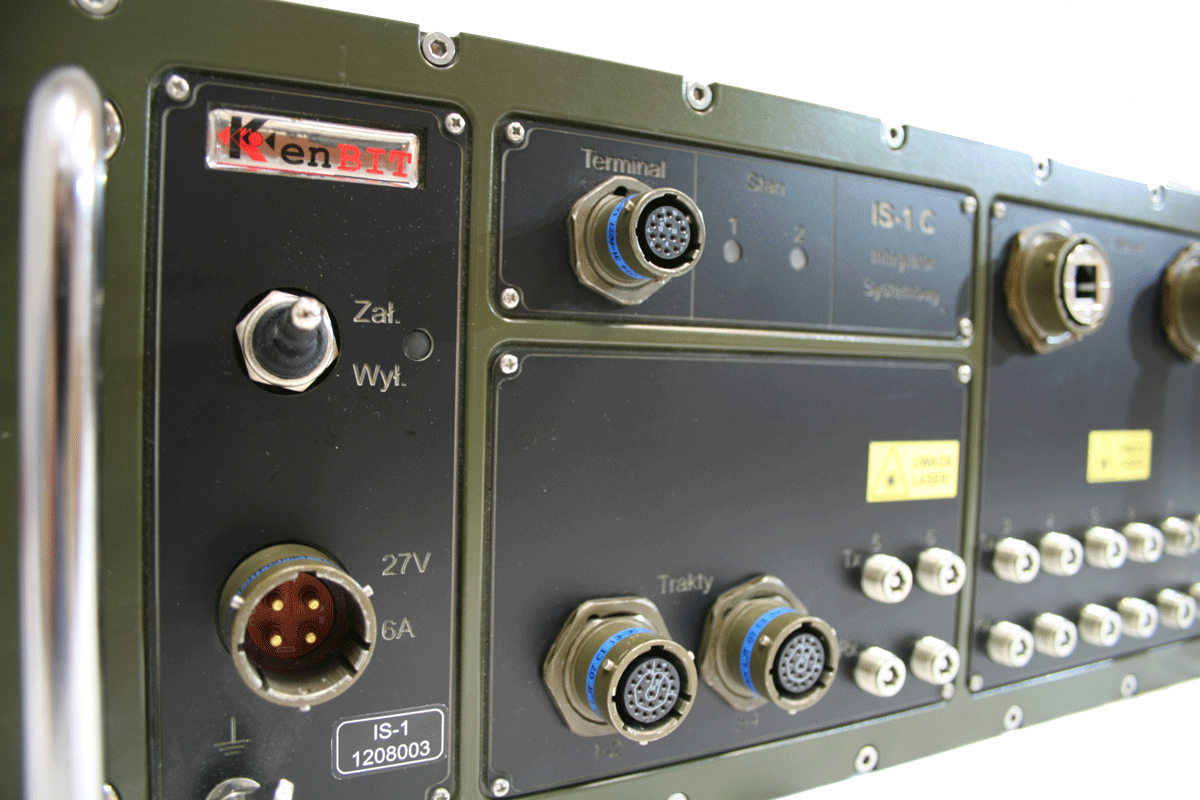 Router/switch functions
The routing support in layer 2. and 3. IPv4 and IPv6 protocols are supported in layer 3
Support of protocols: RIPv1 i v2, OSPFv2, BGPv4, EIGRP
Servers: DHCP, NTP, TFTP
Management: local desktop, SNMPv3, WWW
VLAN support according to IEEE 802.1Q
Grouping of Ethernet interfaces and configuring them to work with router or switch
Support for GRE and IPIP tunnels
Creation of VPN
Access to the router through Ethernet interfaces and modem connections
Support for radio
Support for VHF radios: PR4G, F@STNET
Support for HF radios: RKS 8000, RF5800, AN/PRC-150, RKP 8100
Support for radiotelephones: RTK-1, Motorola XTL
IP data transmission according to STANAG 5066
HF/VHF simplex radio access
All radios are connected to theIntegrator by Ethernet cables anddedicated module interface for the particular radio. The module provides the translation of data,voice, and control over the IP
Voice (compilation of calls, chat, conferencing) are implemented using SIP, H.323 or SCCP protocols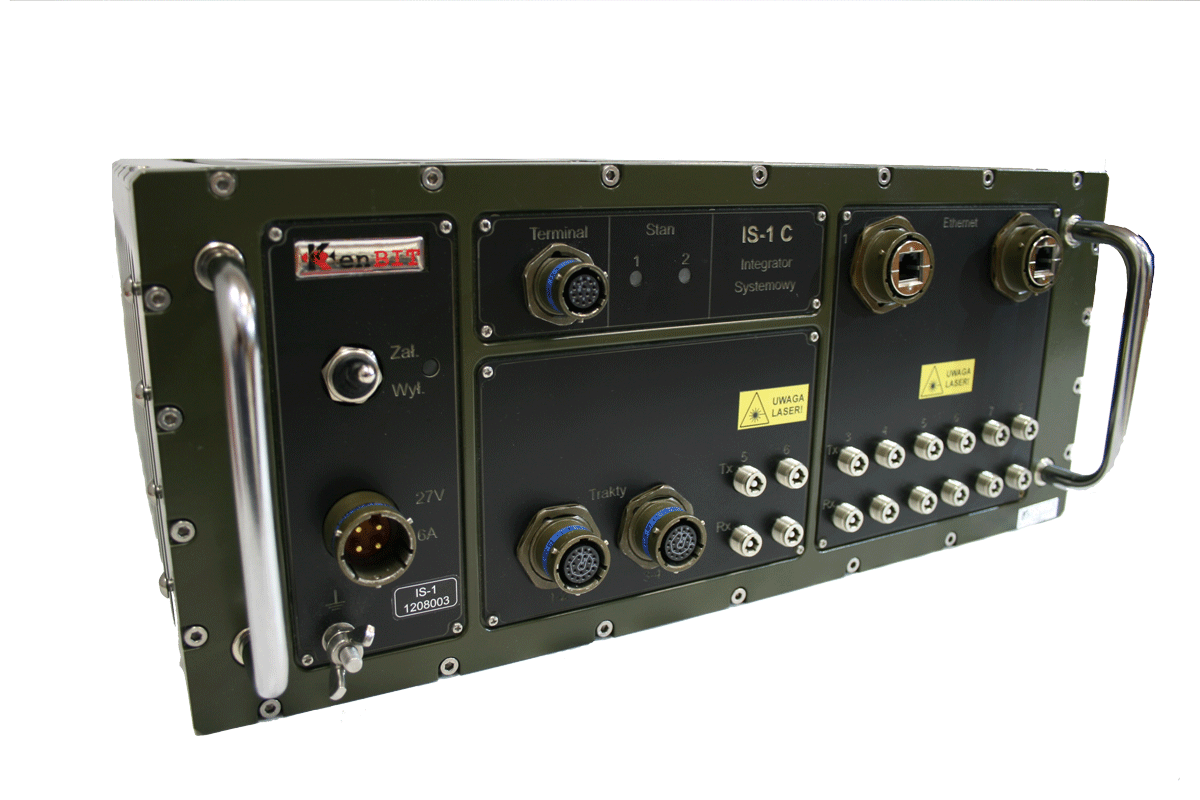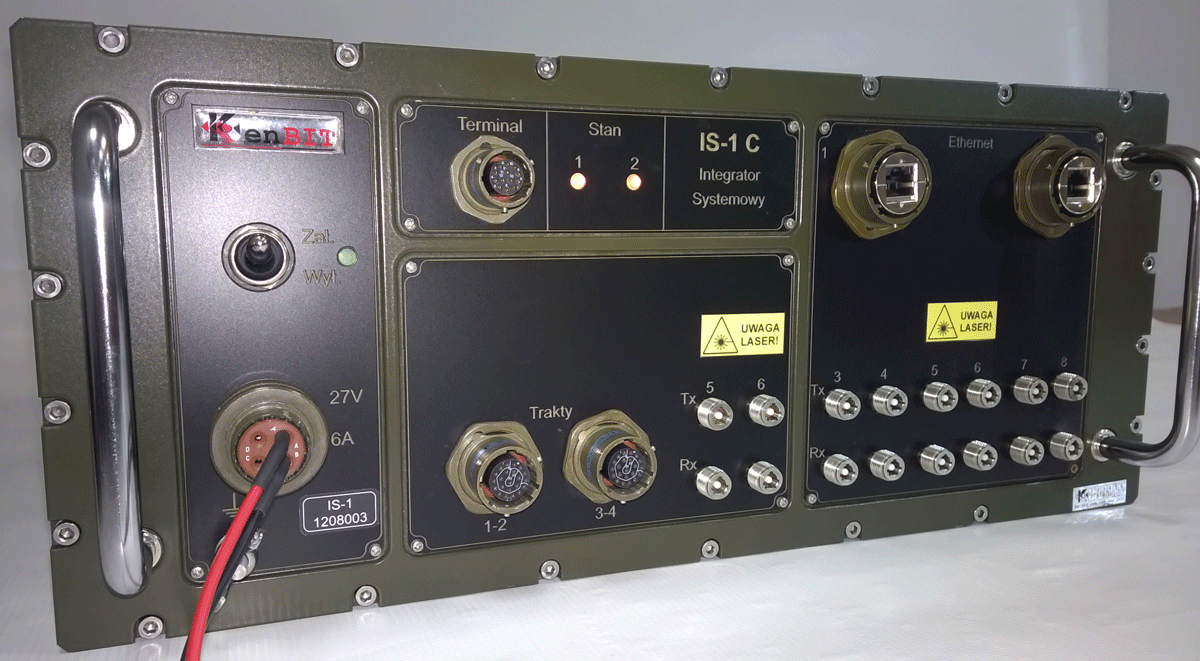 VoIP
Support of codecs: G.711 aLaw andµLaw, G.723.1, G.726, G.729 A & B
Signals support: SIP, H.323 (gatekeeper), SCCP
The ability of translation between the different codecs
The ability to link exchange boards through Ethernet with the use of SIP or H.323 signaling
Connection of VoIP subscribers induplex conferences
Line interfaces
4 digital tracts supporting
electrical standards: G.704,STANAG 4210, EUROCOM AMI
sygnaling: Storczyk NR.7, ISDN DSS1(Q.931), STANAG 4206; STANAG 4578
codecs: CVSD, G.711 aLaw
Support of 12 analog CB lines (with DTMF signaling) and MB. Analog lines provide
DTMF dialing
incoming calls ID
calling signal current from 50÷90 V
power supply line for the CB phones
detection of calling signal for MB phones
Ethernet interfaces

1 x Ethernet 100BASE-FX or 1000BASE-SX
1 x optical port 1000BASE-SX (850 nm, according to STANAG 4640 with 2 MFM optical connections, cooperating with 50/125 µm multimode cables with 850 nm wavelength
9 x Ethernet 10/100/1000BASE-T(IEEE 802.3ab), including 4 x PoE according to IEEE 802.3af
2 x VDSL interfaces