Tulipan
---
Mobile Satellite Station VSAT
Mobile Satellite Station TULIPAN based on Mercedes Benz Sprinter platform. Its purpose is to provide global scale communication and services like VoIP telephony and Video Conference. Mobile Satellite Station can be redesigned to fit a number of different type of vehicles (e.g. armored or off-road) which allows montage of the antenna on the top and has enough space for inside installations.
Operation features
Wideband services (Videoconference, WWW service, VoIP, mail) for four separate LAN/WAN networks
Joining videoconference in one of four separated networks
Using cell phone infrastructure for data transmission (also on the move) or on stay without need of using VSAT antenna
Wireless access for local users (laptops, smartphones) to VSAT media communication
VSAT system management application
---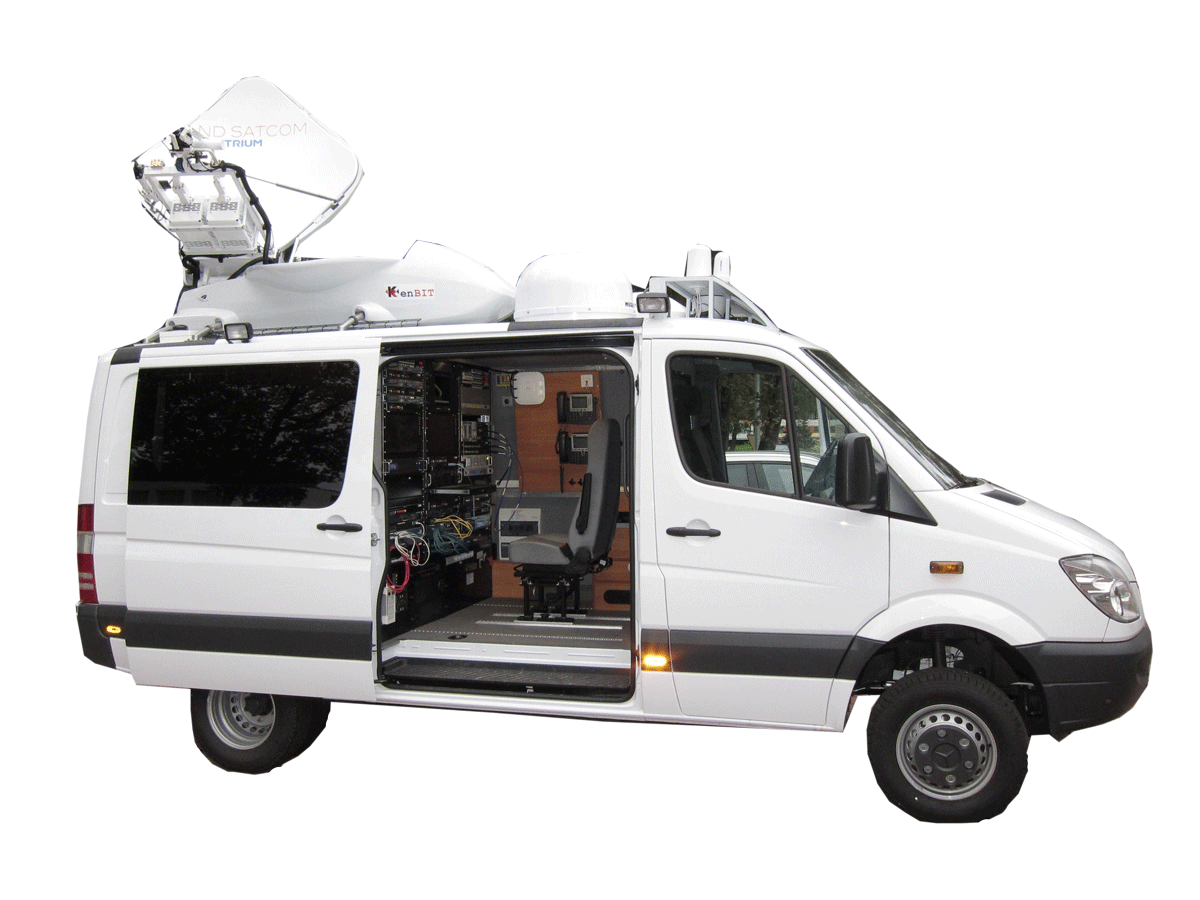 ---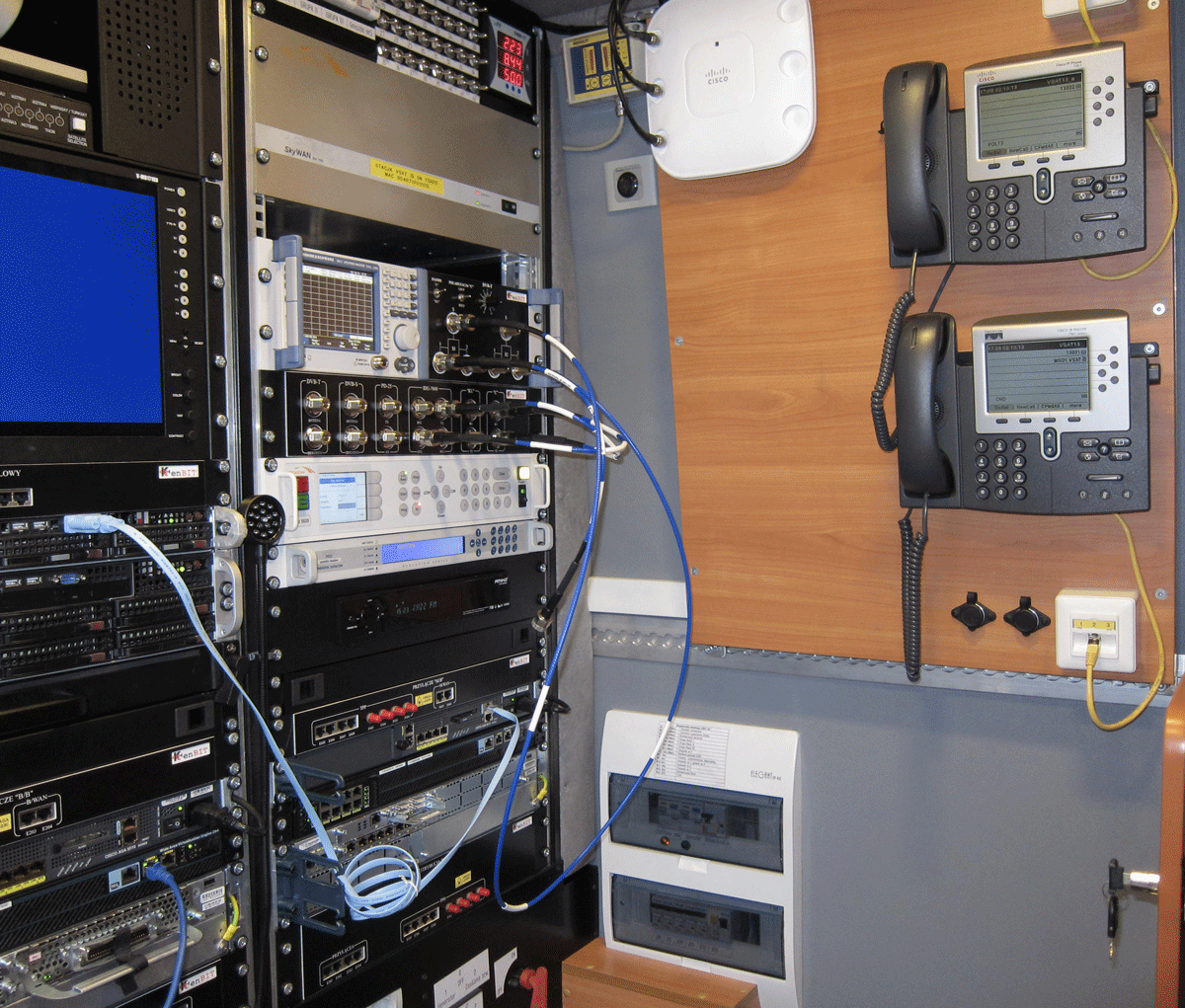 Basic ICT equipment applied on the
vehicle
VSAT Satellite antenna for Ku and C band
GSM antenna for data transmission through cell-phones infrastructure
DVB-T and automatic DVB-Santenna for satellite and terrestrial television
WiFi accesspoint for local communication
Videoconference terminal
PC computer
Server
Two full HD monitors
Video switching matrix
Set of network routers and switches for communication organization
IP camera for VSAT antenna andsurrounding observation
HF and VHF radio as an option
Operating possibilities
Vehicle is able to drive in off-road terrain (four wheel drive)
For proper VSAT antenna operation vehicle is stabilized by two electromechanical jacks mounted on the rear
RACK space and operator space has separate air condition systems
RACK cabin is prevented from vibrations by shock absorbers
There is a separate cargo space with power connectors on the rear of the vehicle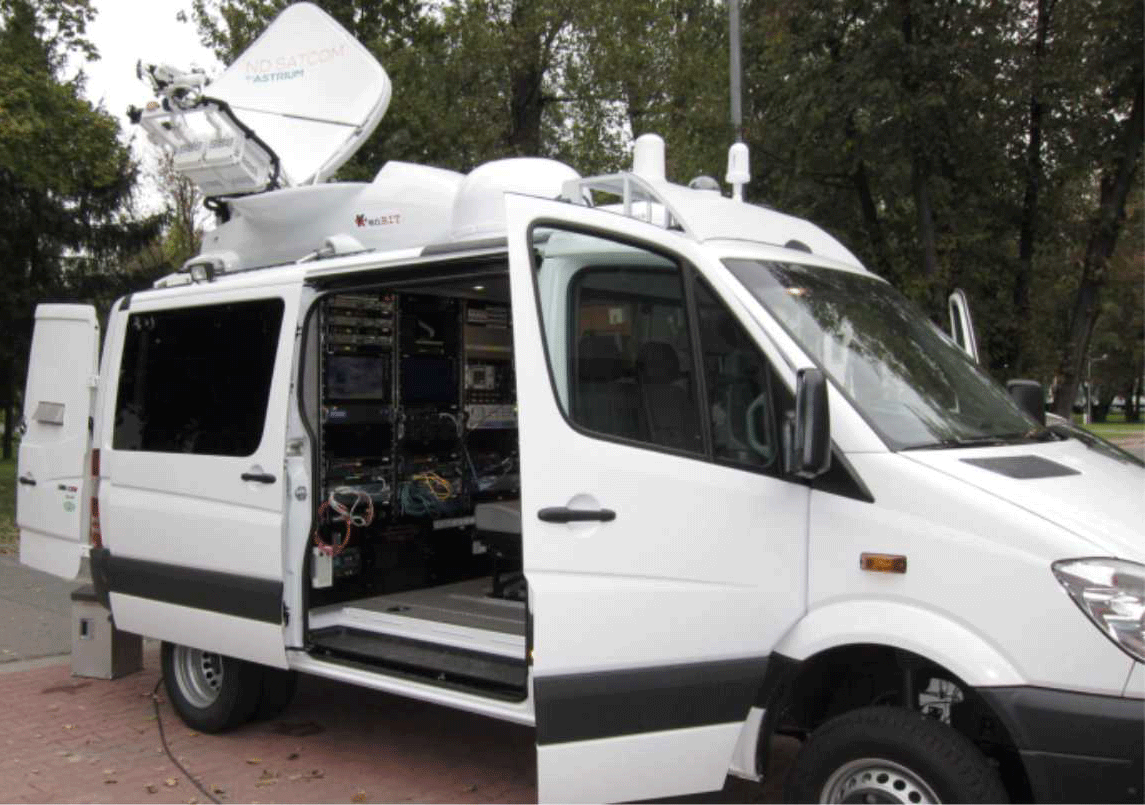 VSAT Mobile Station was certified by Military Institute of Chemistry and Epidemiology confirming that it allows safe environment for vehicle crew during operation of devices emitting electromagnetic radiation.